Montgomery County's only co-operative trout nursery; located adjacent to the Norristown Farm Park, Norristown, Pennsylvania.
WATCH "THE WHOPPER" GROW!
As of May 26th, the 1st prize in our raffle is currently $1250, 2nd is $750, and 3rd is $500 - & growing! Please return outstanding tickets by May 30 - Drawing is 6/9/2015 at SCA General Meeting
Mission Statement
This Organization aims to provide a meeting place in Montgomery County for all Sportspersons of good will - to foster Conservation of Fishing Areas and Game Lands in our Commonwealth - to encourage the protection and propagation of all Wildlife, Game, and Fish - to develop opportunities for the greater enjoyment of Hunting, Fishing, and other outdoor recreation, and to search for solutions to problems of Ecology and Pollution of the natural resources on our Community and Commonwealth.
Stony Creek Anglers is an IRS recognized tax-exempt 501(c)(3) non-profit organization. Donations are fully deductable, as allowed by law, for Federal Income Tax.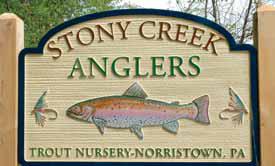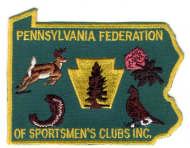 General Membership Meeting
2nd Tuesday of each month at 7:30PM
Maenner-Chor Club
920 Haws Ave. Norristown, PA