BOSCOV'S "FRIENDS HELPING FRIENDS" DAY
Tuesday, October 20, 2015, at all Boscov's locations, 9am to 11pm
(not eligible for phone or on-line orders)
Stony Creek Anglers has partnered with Boscov's Department Stores to offer a 25% off* shopping pass to anyone interested in purchasing one. As Stony Creek Anglers is a non-profit organization, Boscov's is offering us an opportunity to sell these one day shopping passes at a cost of $5.00 each. ALL the proceeds from the sale of these passes will remain with our club, therefore; if we sell 100 shopping passes at a price of $5.00 each, Stony Creek Anglers will realize a clear profit of $500.00 to go towards the maintenance of the nursery and the funding of our fishing programs!
It's a GREAT Deal, not only for the shopper but for Stony Creek Anglers as well!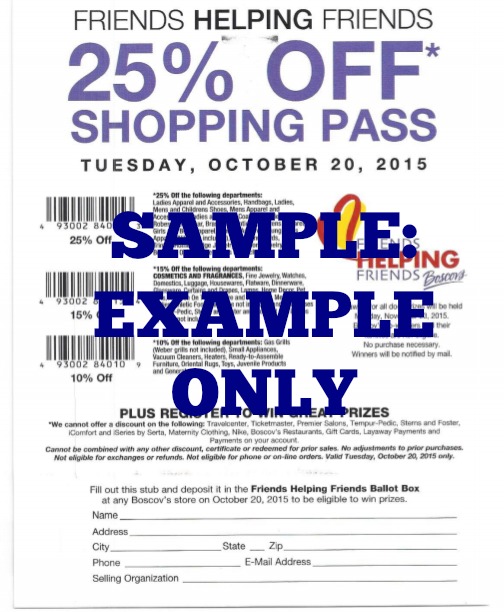 But WAIT…There's MORE!!!
Boscov's will be providing free refreshments throughout the day to all its Friends Helping friends customers!
In addition to the GREAT savings…by filling out the brief information stub on the bottom of the pass and giving it to the cashier at the time of your purchase, you will be registered to win prizes, including three $500.00 shopping sprees!
This really is a terrific deal and we hope many of you take advantage of this one day shopping event!
To purchase a Friends Helping Friends shopping pass, simply forward a check in the amount of $5.00 made payable to Stony Creek Anglers and mail to:
Stony Creek Anglers, Friends Helping Friends,
PO Box 221, Blue Bell, PA 19422
Be certain to include your return mailing address.